A commemorative community project
Take a minute to pause, reflect, and keep the memory alive.
Join the City of Waterloo Museum and the Canadian Legion for a community commemorative poppy, and story project reflecting on those who served in times of war from around the world. Through this project, we will be collecting knitted or crocheted poppies, stories of family members who served in war, and personal reflection from the community.
Knitted or Crocheted Poppies
We are starting the call early for 2023! Would you like to take part?
From now until September 29, 2023 you can start knitting or crocheting poppies. You can use any shade of red and black wools or pick up a kit starting March 7 at various locations. This portable activity can be done in front of the television or at the cottage on a summer's day. Completed poppies can be dropped off at the Community Pavilion (101 Father David Bauer Drive) or the City of Waterloo Museum at Conestoga Mall.
Pick up locations for bags will be:
Community Pavilion
101 Father David Bauer Dr

West entrance, next to WMRC
Waterloo Memorial Recreation Complex
101 Father David Bauer Dr
RIM Park
2001 University Ave E
City of Waterloo Museum
Closed until October 25

Conestoga Mall

550 King St N

between The Bay & Galaxy Cinema
Waterloo City Centre
100 Regina St S
Not sure how to Knit or Crochet but want to contribute?
Check out these at home tutorial videos to learn how to make some poppies and join the project!
For more information, contact leisureprogramming@waterloo.ca
Share Stories and Photos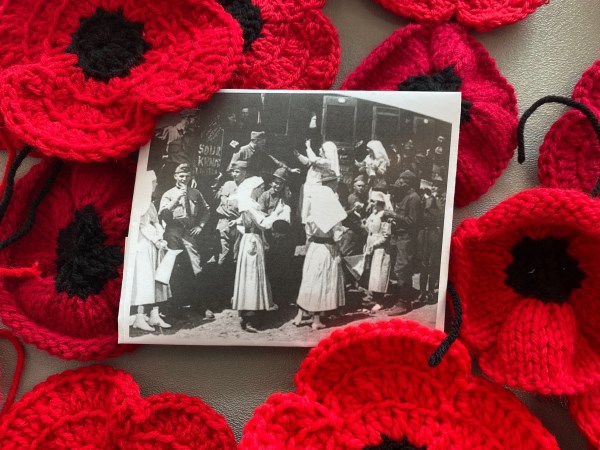 If knitting or crocheting are not your thing, perhaps you can share a short little story or poem that can capture a breadth of emotion including amusement, pride, despair, love and gratitude. Please feel free to include a digital photograph of the individual or a memento that reminds you of them. To do so you can email your digital submissions to museum@waterloo.ca
Here are two samples to inspire story sharing:
Buckam Singh
Buckam Singh was one of the first Sikh Canadian WW1 Soldiers. Despite much discrimination in the military at the time, Buckam enlisted with the Canadian Expeditionary Forces in the spring of 1915 in Toronto. After he enlisted, Private Buckam was placed with the 20th Canadian Infantry Battalion. In 1916, he participated in battles around Flanders - where John McCrea was stationed and penned his famous poem. Here, Private Buckam was wounded on two separate occasion. The second injury caused Private Buckam to be sent to England, then Kitchener for recovery. He did not recover and eventually passed away at age 25. He is buried in the Mount Hope Cemetery.
Lillian Dorothy (Bond) Pierce
Born in Kitchener and growing up on Mary Street, Lillian was the first woman from Waterloo to enlist in the Women's Auxiliary Air Force in 1941. The Women's Auxiliary was later renamed the Royal Canadian Air Force Women's Division and shorted to WD. The goal of WD was to replace men in behind the scenes roles such as mechanics, drivers and more. Following the war, Lillian married Allen Peirce. The couple settled in the Veterans Green development in Waterloo and called 71 Hickory Street home.
Personal Reflections
Take some time to reflect - to really stop and think about what has happened; is happening, and what should happen next in the world, community, society or personally in relation to remembrance, war and peace. Write a poem, short thought or draw a reflection that we can share with the community. These items will be shared with the poppies.
For more information, contact museum@waterloo.ca
The Poppy design is a registered trademark of The Royal Canadian Legion, Dominion Command and is used under license.